Hi, all my crafty friends and family!!!
Do you know what today is?!?
That's right . . . not only is it Saturday again, but it's time for a new challenge over at Hiding In My Craft Room. This week's challenge is to "use ribbon".
Our sponsor is My Besties!!!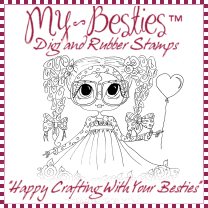 The giveaway is 4 pre-selected digital images! YAY!!!
So let's forget about the rainy weather (it's been raining for past couple days
here and expected to rain thru the weekend) and get out your paper,
scissors and glue . . . oh, and don't forget RIBBON. :)
For this week's challenge, I used an image I already had from My Besties called "Hope Girl". This time I colored her just a bit different and used purple (mica/metallic), turquoise (PopTunes) and ivory (Iridescent Cryogen and White Leather) papers from PaperTemptress along with some mists from Mr. Huey, some flair from UmWowStudio and miscellaneous ribbons & gems. Here's how it turned out:
As you can see (I hope it shows up in the picture), I used the Mr. Huey sprays and splattered them on the White Leather paper from PaperTemptress to help pull all the colors together and to add a little more color that would not distract from my image. I think it was just enough to add a little more color, but not distract from my image.
Remember you have one week to get your projects in over at Hiding In My Craft Room in order to be eligible for the weekly prize. Hope to see all of you join us this week!!!
Till the next time I'm up in the night.
Challenge(s) I would like to enter:
will add at a later date :)