Hi, all my crafty friends and family!!!
Here' it is the 1st Saturday of the month . . .
and you know what that means, right?
That's right . . . not only is it time for a new challenge over at Hiding In My Craft Room, but it's time for a "Color" challenge. This month the colors are -
Wild Wasabi, Blushing Bride, and Red Rose!
These are Stampin Up colors but please feel free to use any brand of matching colors.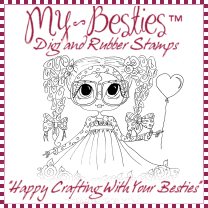 The giveaway is all four images
My Besties
used by the HIMCR Design Team!!!
This week I chose the St. Patrick's Girl from My Besties as the image I would use. Here's what I came up with:
Pretty cute, don't you think? And I think she works great with the color challenge, too.
Remember, you have one week (till February 14th at 2am PST) to get your projects in at
Hiding In My Craft Room
. Can't wait to see what everyone comes up with this week!!
Till the next time I'm up in the night.